Munising Local Artists & Crafters
The Munising area is very fortunate to have so many talented artists and crafters. With our Upper Peninsula solitude and beauty, the local artists are able to draw from mother nature and create some really spectacular artwork. Some of the visual arts include painting, photography, pottery and sculpture.

Concentrating on the Upper Peninsula of Michigan and in particular the Central UP and Pictured Rocks National Lakeshore, Tim's work captures the raw beauty that still exists if you're looking for it. Not settling for another pretty picture, Tim tries to impart a personal look at the landscape creating each piece to have visual impact. Common every day scenes become transformed into visually stimulating images. Add to this the printing by a craftsman of 35 years and Tim's landscapes are captivating.


Yooper Goddess Partnership is owned by two sister-in-laws, Lori Kulju (a.k.a. The Yooper Goddess) and Vikki Kulju. They are the authors of the very popular, Superior Plates & Places, a cookbook meets travelogue and they design and create Yooper-inspired products. They also use their platform to promote local artists through their via strategic collaborations.

As seen on WLUC TV6 Morning News with bi-monthly cooking segment
Author of Superior Plates & Places and Venison Vixen
Yooper-inspired clothing & jewelry
Supporters of local artists
Creating a tribe of Yooper Goddesses across the nation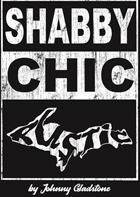 Johnny Gladstone & Monique – Shabby Chic Rustic
Shabby Chic Rustic is a family operated business created by Johnny Gladstone & his fiancée Monique.
Johnny specializes in a variety of hand crafted products including signs, tables, benches, doors, accent walls, mantels and much more! He builds with a variety of woods which include Black Walnut, Birdseye Maple, Cherry & exotic woods. His favorite is reclaimed barn wood in which he repurposes the wood into furniture pieces and architectural decor. He enjoys putting wood that came from local barns to good use again by giving it a new purpose, and preserving the quality of the timber it is built from, as well as the memories left behind by countless Yoopers.
He has created and built many barn wood accent walls and business signs throughout the area. Each piece made by Shabby Chic Rustic holds a piece of Upper Michigan history, a history that can become part of the story your home or business tells!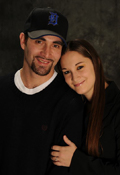 Betsy O'Neill is a Michigan based artist residing in Grand Rapids. Working with oil and acrylic paints for more than 17 years, she favors generous brush strokes and colors to evoke her feelings influenced by nature. Her travels among the diverse landscapes of Michigan offer a broad expanse of inspiration. Betsy's paintings invite the viewer to step back, pause, and recreate their own connection pulled from lasting memories.
As a painter, her desire is to not only instill a sense of wonder and longing to explore natural spaces, but also awareness and preservation of our precious landscapes.


BY JACKIE BESSNER AND STACY TILLEY
Be Inspired UP Studio, guided by artisans Jackie Bessner and Stacey Willey, thrives in the heart of Upper Peninsula, MI. Their creations draw inspiration from the region's natural beauty, with Jackie's unbridled creativity shaping their pieces. Stacey, with her mastery in graphic art, breathes vitality into their designs, infusing them with love, harmony, and dynamism. Immerse yourself in their enchanting studio, witness their artistic journey, and be captivated by their distinctive jewelry that beautifully captures the essence of the U.P.


Greg Kretovic is an outdoor photographer, author & creative designer who loves spending his time in the outdoors capturing the year-round beauty of Upper Peninsula. Much of Greg's work includes photographic prints of Upper Peninsula waterfalls, landscapes and spectacular Lake Superior. His prints are professionally printed, of archival quality and available in a variety of sizes. His work can be viewed by visiting his online photography store.
Greg also just authored a travel guide book titled 'Waterfalls of Michigan', which is available at the Center and online.

Featured on Huffington Post, Outdoor Photographer magazine, National Geographic News & several others
Waterfalls
Lake Superior
U.P. landscapes & nature
Author of 'Waterfalls of Michigan'
Northern Lights & night sky
Prints on canvas & custom sizes available!