Unique gift shops, antique stores and art studios in the Munising area
Munising offers a variety of shops to help you find what you're looking for.


Putvin Drug Store offers a wide selection of unique gift ideas, collectables, greeting cards, wrapping supplies and housewares. Whether you are looking for a holiday item, a unique gift and card to give, or just want to browse and treat yourself with something special, Putvin Drug Store has it all… and much, much more.



Horseshoe Falls & Gift Shop
The Munising area features an impressive list of waterfalls and Horseshoe Falls & Gift Shop is one you should make sure to visit! This beautiful waterfall is privately managed with the utmost care and has many unique features. Bring the family and spend the afternoon enjoying our beautiful gardens, picnic area, gift shop and the trout pond where you can feed the fish! We also have trails for you to explore and take in the pristine beauty of the Upper Peninsula northwoods. We hope to see you soon!

Impressive 30-foot waterfall
Trout feeding
Picnic area
Expansive gift shop
Beautiful flower gardens
Fun scavenger hunt
Ample room for parking


Visiting the Visitor Center should be your first stop when visiting the area. We offer a wide variety of information for the area. From local attraction information to restaurant menus, we can help you plan out your stay. Stop in to see our expansive local artists gallery, local apparel, books and other U.P. gift items. Open seasonally from May thru October.

Free Local information and maps
Purchase Pictured Rocks Cruise tickets
Local artist gallery
U.P. apparel and other gift items
Books, calendars and other crafts
Open 7 days a week during summer months
A friendly staff to answer your questions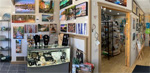 UP~Scale Art is a retail art gallery featuring the works of artists from around the Great Lakes Area. Browse the gallery's many offerings including photography, watercolor, oil, hand blown and stained glass, fiber art, jewelry, pottery, wood, and metal sculpture.
UP~Scale Art is a cooperatively run arts center managed by the Munising Bay Arts Association, LLC. The center also hosts workshops and classes.

Down Wind Sports is an Upper Peninsula owned and operated business, with stores located in Munising, Marquette and Houghton. We specialize in mt. biking, hiking, fly fishing, camping, kayaking, climbing, cross country skiing, alpine skiing, and snowshoeing. We also host a variety of events throughout the year including the popular Michigan Ice Fest held in Munising.

Service for a variety of winter and summer outdoor sports
Gear rentals
Host several winter and summer events and workshops
Guide services
Locations in Munising, Marquette and Houghton

Your Hometown Proud Supermarket!
We invite you to come in and experience our commitment to excellence, from customer service to the high quality of products we carry! We take pride in Angus Pride beef as well as our other cuts of pork and chicken. We strive for the freshest produce, bakery, and deli items! Our Dairy is second to none as we strive to take care of our community and those who come to our gorgeous town to visit! We strive to keep our business local and are UP Proud!
We want to be your Hometown Proud Supermarket and look forward to the opportunity to serve you!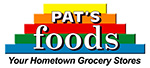 Located on scenic Highway 13, we are local favorite for everyday convenience items throughout the seasons. Whether you need grocery supplies, sporting goods or a tasty ice cream cone, we have it all. Need a bite? Our kitchen features smash burgers, pizzas, pasties, plus we have indoor and outdoor seating.
We're also located just off the snowmobile/ORV trail and carry premium gas! Stop in for a pitstop for your toy and yourself!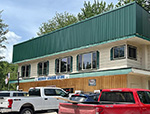 Gas (including ethanol-free)
Grocery items
Sporting goods
Beer, wine & liquor
Hand-dipped ice cream
Apparel
Smash burgers, pizza, fries & more
Free wireless Internet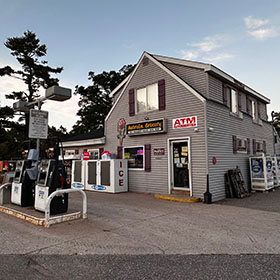 Located in Au Train, 15 minutes west of Munising and off M28, Au Train grocery is a local liquor/convenience store. Locally known for their pasties. Recognized by the Pasty Guy as "every bite has some flavor and live wrapped into it."  
Liquor/beer
Grocery
In-store deli
Clean & affordable rooms
On snowmobile/ATV trail

Munising Cannabis Company
We are proud to be the U.P.'s first microbusiness, and we are officially licensed to retail cannabis for recreational purposes. Our team takes pride in growing and producing quality products fresh on site. We also enjoy educating our customers on the potential benefits and effects of cannabis use. Visit our shop today to talk with us about our solvent-less production methods, tips for enjoying cannabis safely, or even a chill spot to watch a sun set.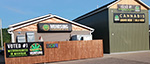 Voted # 1 Microbusiness in Mi
Solvent-less Extractions
Locally Owned and Grown
Small Batch Cannabis
Handcrafted Edibles
Seed to Weed
Open 9am-9pm M-Sun
Be Safe and Smoke Responsibly