Restaurants, bars and cafés with great food & drinks in the Munising area
Click to find an ATM!Munising offers a variety of eating options for everyone's taste buds. With Lake Superior in our backyard, many area restaurants offer fresh Lake Superior fish including salmon, trout and whitefish. Want to try a pasty (the 'a' pronounced as in 'cat')? You're in luck, most Munising restaurants offer homemade pasties on their menus. There are also great breakfast and lunch options in the area to help you make it through the day. After a day of sightseeing why relax at one of our cafés or saloons for a tasty beverage. Many places offer live music throughout the year!
Dogpatch Restaurant & Gift Shop

Munising
Since 1966, the Dogpatch Restaurant has offered great tasting meals in a very unique atmosphere. The "Patch" is home of the legendary vittles including a huge soup and salad bar, a country breakfast, seafood, steaks and great sandwiches. While you're at the Dogpatch make sure to visit the gift shop and see their wide selection of items… from local souvenirs and clothing to unique handmade gifts, they have something for everyone in your family. We hope to see you soon at the Dogpatch!

325 E. Superior St., Munising
N 46° 24.549 W 86° 39.051
(906) 387-9948
visittheup@yahoo.com
www.dogpatchrestaurant.com
Open at 7am daily
Country breakfast
Large soup & salad bar
Burgers & sandwiches
Seafood & steaks
Great Lakes fish
Appetizers
Rail drinks
Quality gift shop with many items
Large parking lot for trailers/RVs

AuTrain
Established in 1946, a visit to the Brownstone Inn is a must when you're in the Munising area. Located 2 miles west of AuTrain, this historic restaurant offers a variety of delicious lunch and dinner items that are sure to satisfy. Their large menu selection has something for everyone – from Filet Mignon with Stuffed Crab to the Brownstone Burger, a local favorite. For those traveling by snowmobile or ATV, the Brownstone is conveniently located off trail 417. We hope to see you soon!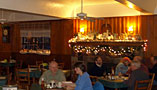 E4635 M-28 West, AuTrain
N 46° 26.471 W 86° 53.108
(906) 892-8332
www.BrownstoneUP.com
Lunch all day, dinner after 3pm
Kids menu
Filet mignon & ribeye steaks
Lake Superior whitefish
Unique appetizers
Soups & salads
Burgers & sandwiches
Tasty desserts
Mixed drinks, wine & beer selection
Domestic, imported & locally brewed beers
Private dining room – Onota Room
ATV/snowmobile trail access

New Owners!
Munising
Located just South of Munising, all trails lead to the Buckhorn Resort! Along with great lodging in a Northwoods setting, the Buckhorn offers a full-service restaurant and lounge. You will find yourself overlooking beautiful Hovey Lake while enjoying a great meal in a casual and comfortable setting. We are known for our broasted chicken and pork chops and our sandwich menu. Steaks, fish and pasta round out our dinner menu.

N3919 Buckhorn Drive, Munising
N 46° 17.807 W 86° 42.010
(906) 387-3559
lifeisgood@buckhornresort.com
www.buckhornresort.com
Click for map!
Open 11:00am, 7 Days a Week
Broasted Chicken and Chops
Salad Bar
Sandwiches and Appetizers
Steaks and Seafood
Pizza & Pasta
Craft Beers
Lodging
Gasoline

Munising
A trip to Muldoons for their award winning pasty (pronounced pass-tee) is a must if you are visiting Munising. Voted #1 in the Upper Peninsula, Muldoons offers traditional and vegetarian pasties that are sure to provide a hot and delicious meal anytime of day.
Pasties originated as a meal for the miners of Cornwall, England, and later Michigan's Upper Peninsula. A pasty is a pie that is made without the benefit of a pan to shape it. Muldoons pasties are Cornish meat pasties made with potato, ground beef, onion, rutabaga, and carrot, baked in a piecrust. Vegetarian and apple pasties are also available.



Two Locations!
1246 M-28 West, Munising
107 Elm Ave., Munising
M-28: 9am-9pm ~ Elm Ave.: 10am-9pm
M-28: N 46° 25.522 W 86° 39.688
Elm Ave.: N 46° 24.676 W 86° 39.308
(906) 387-5880
www.muldoonspasties.com
Click for map!
Award-winning pasties
Fresh, made daily pasties
Handmade fudge
Beef, Veggie or Apple available
Indoor & outdoor seating
Frozen pasties available
Large selection of U.P. gifts
The Duck Pond Eatery & Beer Garden

Christmas
Our newly renovated building features an outdoor beer garden where you can marvel at the night sky while enjoying a Michigan wine or craft brew. Live music will feature local musicians, so bring your dancing sandals. The Duck Pond is the perfect place to stop by for lunch or dinner as you explore the great outdoors. We offer a variety of sandwiches, salads, pizzas, and our Lake Superior whitefish tacos can't be beat. Bring the whole family!
We are within walking distance of Lake Superior and the Paddler's Village.
E7974 M-28 West, Christmas
N 46° 26.253 W 86° 42.255
(906) 387-1689
www.duckpondeatery.com
Beer Garden
Friday Fish Fry
Pizza
Michigan craft beers & wine
Outside fire pit
Open 7 days a week
Grand Island sunset cruise

Munising
VandLanschoot's have been commercial fishing the Great Lakes for over 100 years. Our goal is to bring the freshest of products to your plate. We specialize in fresh Lake Superior Whitefish, the local favorite. Our fish market is located right at our dock so fish enthusiasts can experience the entire process from fish to fillet. We encourage you to bring the whole family.


Fish market hours: Mon-Sat 9am-6pm; Sun 11am-4pm
1338 Commercial Street, Munising
N 46° 26.253 W 86° 39.461
Fish House: (906) 387-3851 or cell: (906) 202-3474
sheilambelanger@yahoo.com
www.vsifish.com
Fresh Lake Superior whitefish fillets, smoked fish and more
Over 100 years of commercial fishing the Great Lakes
The Fish Market is open every season from Memorial Day weekend to Labor Day weekend
Shooter's Firehouse Brewpub

Munising
Newly built in 2011, Shooters is locally owned and operated by loyal Firefighter supporters. With flat screen TV's , a jukebox, and locally brewed specialty ale everyday, Shooters is the perfect place to relax with friends after a long day.

408 Mill Street, Munising
N 46° 24.487 W 86° 38.993
(906) 387-3540
www.shootersbrewpub.com
Burgers and Pizza
Indoor and Outdoor Seating
Locally Brewed Ales
Free Wi-Fi
Flat Screen Televisions
Daily Specials
Private Loft Lounge

Grand Marais
Built in 2016, the Grand Marais Tavern is centrally located in quiet downtown Grand Marais. Overlooking the harbor, they are a fun stop for a quick bite or a refreshing drink. Their menu includes appetizers, burgers & sandwiches, pizza and a kids menu. They also have draft & bottled beers, rail drinks and wine. The Grand Marais Tavern is the perfect place for a burger and a beer while enjoying the best view of Lake Superior in town!


Mon.-Thurs. 11:30am-midnight; Fri. & Sat. 11:30am-2am; Sun. 11:30am-9pm
14260 Lake St., Grand Marais
N 46° 40.263 W 85° 59.085
(906) 494-2111
gmtavern@gmail.com
www.facebook.com/GMTavern/
Burgers & Sandwiches
Pizza & Subs
Friday Fish Fry
MI Brews on Tap
Daily Specials
KENO
Patio Seating overlooking Lake Superior
Mama Cow's Ice Cream Shop

Chatham
Mama Cow's Ice Cream shop serves premium 'The Chocolate Shoppe' hand dipped ice cream, as well as soft serve, shakes, malts, and tail twisters. Hot dogs and quick burgers are also on the menu. M-94 is a popular route for waterfall enthusiasts, and a scenic route no matter the season. Take a minute to sit and relax at our picnic tables while enjoying your treats.
Open 11am-10pm Mon.-Sat., 12pm-9pm Sun.
E3686 M94, Chatham
N 46° 20.860 W 86° 55.807
(906) 439-5253
The Chocolate Shoppe hand dipped ice cream
Complete soft serve menu
Close to ATV trails
On waterfalls route
Picnic tables
Friendly staff waiting to serve you
East Channel Brewing Company

Munising
Established in 2016, East Channel Brewing Company is Alger County's first Microbrewery. We offer up to ten handcrafted beers all year long. We welcome all of our guests to bring in food from outside eateries. Make East Channel Brewing Company a stop to sit and relax with friends and family while you are enjoying all that Alger County has to offer.

Pub hours: Tues.-Sat. 3pm-11pm, Sun. 3pm-8pm
209 Maple St., Munising
N 46° 24.597 W 86° 39.237
(906) 387-3007
eastchannelbrewery.com
Up to 10 Handcrafted Beers
Free Wi-Fi
Air Conditioning
Sports on TV
Cans and growlers to go
Pints, flights and 10 oz. pours
Board Games

Munising
Main Street Pizza, a local favorite since 1989, offers pizza, subs, nachos, salads, breadsticks, boneless chicken wings, calzones, and more. Using quality ingredients Main Street offers a variety of meats and veggies for subs and pizza toppings. Dine-In or Take-out. Delivery Available.
"If it ain't Main Street, It ain't Food." –J. Evans, 2007
Hours: Mon.-Thurs. 11am-11pm; Fri. & Sat. 11am-Midnight; Sun. Noon-11pm
113 Maple St., Munising
N 46° 24.321 W 85° 38.992
906-387-3993

Munising
Located just a short distance from downtown Munising, Dairy Queen is a must-stop for your favorite ice cream treat or frozen drink. We have a variety of flavors as well as household favorites at our roadside stand. Open seasonally, spring to autumn.
221 W. Munising Ave., Munising
N 46° 24.768 W 86° 39.485
906-387-1800
Click for website
Blizzard® treats
Orange Julius® drinks
Sundaes, ice cream cones
Open seasonally
Outdoor seating
Gift cards

Shingleton
Located in Shingleton, MI, a short 10-mile drive from Munising, we offer a wide selection of menu options for breakfast, lunch and dinner. Don't blink when passing through or you will miss us! Located on M28 and Snowmobile TRAIL 8, we are a favorite for ATV and snowmobile enthusiasts. Conveniently located near the restaurant we offer Motel Suites, and a large 3 bedroom Cabin. Stay with us and enjoy having all you need right at your doorstep.


E12534 M-28, Shingleton
N 46° 20.887 W 86° 28.083
(906) 452-6222
tanglewoodup.com
Soup & salad bar
Full service bar
Friday night fish fry
Premium ethanol-free gasoline onsite
Northwoods Eats and Treats

Au Train
Whether you're paddling the Au Train River or just passing through the Au Train area, we're a quick stop for lunch or snacks! Our bright orange food trailer is located just a few miles south of M-28 in Au Train, on the north side of the first bridge. We have a variety of Michigan-made items including hamburgers, hot dogs, french fries, drinks, frozen treats and snacks!
We are open 11-6pm every day in the summer so stop on by!


Au Train Forest Lake Rd., Au Train, MI (just north of the Doucette Bridge on the Au Train River)
N 46° 25.437 W 86° 50.163
(906) 892-8114
paddleautrain.com/
Volwerth hamburgers, gourmet hot dogs, bratwursts, polish sausage
French fries & Great Lakes potato chips
Frozen treats & snacks
Faygo pop, Gatorade, water
Picnic tables
Convenient location near the Doucette Bridge