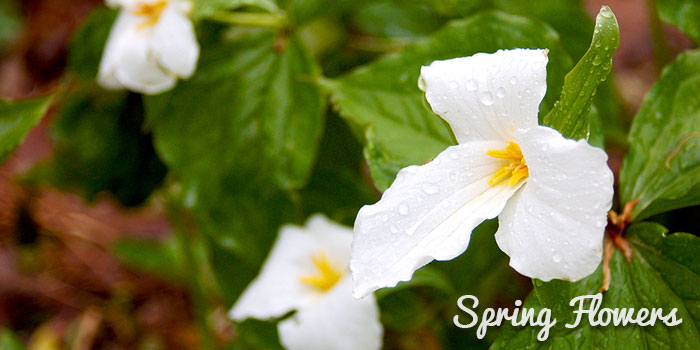 Wild Trilliums – photo by Greg Kretovic
Munising / Grand Marais Spring Events
March 2018
3rd, Saturday
Annual Friends of Valley Spur Annual Taste and Glide
Valley Spur Ski Trails, Munising
11am-3pm; Food in the lodge, food on B trail and food by the fire at the lodge. $23 for non Season Pass Holders, $18 for Season Pass Holders, and $5 for 18 and under
---
18th, Sunday
Annual Chili Fest to benefit the Alger County Animal Shelter
American Legion, Munising
Chili, Veggie Chili, Hot Dogs, Nachos, Refreshments – Take-Out Available
$7 per person, $6 for Veterans, Kids under 4 Eat FREE. Raffles – Silent Auction – 50/50 Drawings start at 4pm. More info: (906) 387-4131 or www.algeranimalshelter.org.
---
April 2018
21st, Saturday
Alger County Animal Shelter Fundraiser Craft/Vendor Show
Alger Parks & Recreation Gym, 413 Maple St., Munising
10am-3pm; Free Admission! Bake Sale and Raffle sponsored by the Alger County Animal Shelter.
Something for Everyone! For more information, please contact Cindy Tonak (906) 399-5920, email: kencin9551@gmail.com
---
May 2018
12th, Saturday
Pictured Rocks Cruise Open for Season 
Munising
»View Explore Munising Listing
---
16th, Wednesday
Manistique Farmers Market Opens for the Season 
Manistique
Weekly on Wednesdays from 4-6pm
»Learn More
---
19th, Saturday
Wetmore Community Club Spring Craft Show & Vendor Show 
AP&R, Wetmore
Call Cindy Tonak for details 906-399-5920
---
19th & 20th, Saturday & Sunday
Munising Trout & Salmon Classic Fishing Tournament
Munising Bay/Lake Superior
Sign up and information available at Shooter's Firehouse Lounge on Mill Street in Munising or contact Bromley Hall (906) 630-2973 or Pat Gariepy (906) 202-2694.
---
25th, Friday
Grand Island Ferry Service Begins
Munising
»View Explore Munising Listing
---
19th, Saturday
Wetmore Community Club Spring Fundraiser Craft/Vendor Show
Alger Parks & Recreation Gym, 413 Maple St., Munising
10am-3pm; ​Something for Everyone! All table rentals, raffle and bake sale proceeds help support various needs in the Alger County area. Bake Sale and Raffle sponsored by the Wetmore Community Club. For more information, please contact Cindy Tonak (906) 399-5920 or email kencin9551@gmail.com
---
26th, Saturday
Lake Effect Artists Open House 
Traders Pt., Manistique
11-6pm art show; 5pm Paddle the River
»Learn More
---
28th, Monday
Memorial Day
---
29th, Tuesday
Opening Day at the Munising Farmers & Artisans Market
Bayshore Park, Munising
Weekly on Tuesdays, 4-7pm til October