Putvin Drug Store is Munising's Health Mart pharmacy, your locally owned community pharmacy. Putvins offers service that is personal, professional and friendly – exactly what you would expect from your hometown drug store. Jeff, your hometown pharmacist, and his trained staff carefully monitor each prescription, review carefully current medications, to make certain that all your medications work in conjunction with each other. Putvins Drug Store – where they specialize in caring and service.

Plan acceptance
Everyday savings
Health & wellness
Friendly service
Everyday convenience
Quality products
Munising Memorial Hospital
Munising
In 2008 Munising Memorial Hospital opened the doors to a brand new, state-of-the art, health care facility. At fifty thousand square feet, the facility incorporates all aspects of a patient care under one roof.
Whether visiting the area or a resident of Alger County, unexpected illness and injuries can occur. With in-house laboratory and imaging services, our providers are ready to deliver fast, convenient quality care.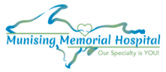 Emergency
Inpatient
Swing bed
Urgent care
Family Practice
Specialty clinic
Laboratory
Radiology
Outpatient rehabilitation