Salons / Nail Technicians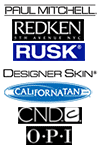 Munising
Stylistics has the ability to make your salon treatment reflect your personal sense of style. We are committed to providing exceptional customer service. Our stylists understand the importance of listening carefully to your ideas and will share techniques to help you achieve your personal style. Be assured, we also use only the finest quality products to achieve first class results. Come in and see what Barbie and her team of beauty professionals can do for you!
113 Elm Avenue, Munising

N 46° 24.654 W 86° 39.329
(906) 387-2633

Tues-Thurs: 9am-7pm; Fri: 9am-5pm
Sat: 9am-1pm; Closed Sun & Mon

Click for map!
Haircuts – kids, men & women
All color services
Perms
Walk-ins welcome
Formal hairstyles / Updo's
Group appointments – weddings, proms, hops
Facial waxing
Hex booth & tanning bed w/ facial lamp
Spa manicures & pedicures
Ear piercing
Mari Jo Sadak – Nail Technician

Munising
Relax and enjoy as Mari Jo pampers your hands and feet to keep your appearance professional and well-groomed. Located at Angie's Beauty Salon in downtown Munising, Mari Jo is a licensed nail technician and maintains the highest standards of cleanliness, health and safety. Out-of-salon services available for bridal parties or small groups. Call and schedule your appointment with Mari Jo today!
Angie's Beauty Shop, 120 E. Superior St., Munising

N 46° 24.614 W 86° 39.283
(906) 387-2427 | c: (906) 202-3414
By appointment
Spa manicures & pedicures
Shellac
File & polish
Apply & repair