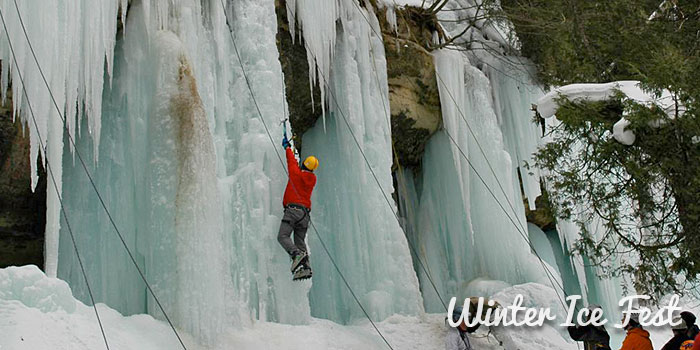 Michigan Ice Fest
Munising / Grand Marais Winter Events
December 2017
1st, Friday
Michigan Snowmobile Season Begins!
Trails open for use
Muzzleloading Deer Hunting Season Opener
Upper Peninsula – Zone 1
---
1st & 2nd, Friday & Saturday
Fireflies Gifts Open House
Munising
Appetizers, beverages, giveaways, Santa 2-4pm on Sat., Dec. 2nd.
---
1st-3rd, Friday-Sunday
10th Annual Holiday Open House
Open Wings Pottery and Gallery, Munising

---
16th, Saturday
Santa's Workshop Craft & Vendor Show
Alger Parks & Rec. Gym, Munising
10am-3pm; Crafts, vendors, baked goods & Free entry to win prizes; Free Admission
---
17th, Sunday
Community Christmas Party
Alger Parks & Rec. Gym, Munising
2-6pm; Join the party for games, prizes and pictures with Santa; Children of all ages welcome; Bring your letters to Santa to the party.
---
25th, Monday
Merry Christmas!
---
January 2018
1st, Monday
Happy New Year!
---
20th, Saturday
2018 Hiawatha Yoopers Pond Hockey Classic
Straits Lake in Wetmore (Near HWY 13 & 2258)
1pm
» Visit Facebook event for complete details
---
February 2018
7th, Wednesday
U.S. Mint's Pictured Rocks Quarter Launch
Mather Elementary School Auditorium, Munising
Quarter launch and coin exchange @ 10am; Coin forum Tues., Feb. 6th @ Munising Township Office, 6-7pm.
» View Facebook Event
17th, Saturday
Moose Lodge Fishing Derby
Au Train Lake, Au Train
Register at the Moose Lodge or at the boat house on Au Train Lake. Dinner following at the Moose as well as prizes. Contact the Moose Lodge for more info (906) 387-2879.
---
14th-18th, Wednesday-Sunday
Michigan Ice Fest
Munising
Ice climbing festival
»Learn more
---
15th-19th, Thursday-Sunday
UP 200 & Midnight Run Sled Dog Races
Marquette, Chatham, Wetmore, Grand Marais
»Visit Website
---
24th, Saturday
25th Annual Outhouse Classic
Trenary
Festivities begin at noon, racing starts at 2:00p.m. Be there! 
» View Website
---