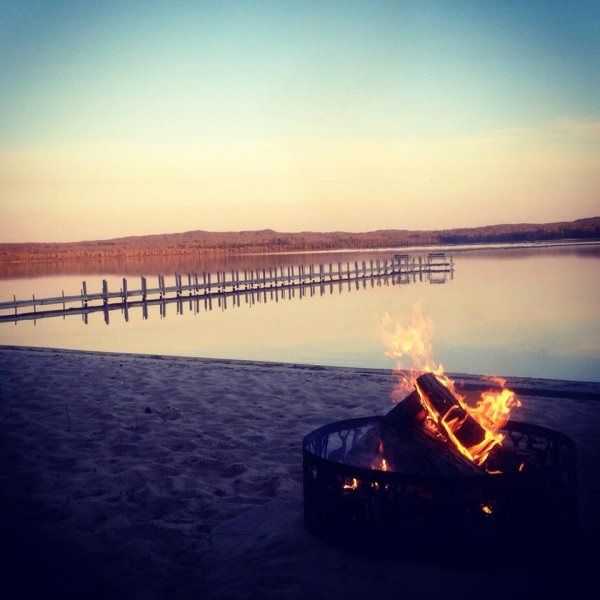 Northwoods Resort, located in AuTrain, Michigan's Upper Peninsula, known for being a 4-season vacation destination. Family owned and operated for many years, the resort has become a favorite for those visiting Alger county coming back year after year–cultivating memories for generations. Northwoods Resort and their Canoe and Kayak Rentals is a popular destination for summer guests seeking rest, relaxation and all that Alger county has to offer. Winter and fall enthusiasts take advantage of the resort's accessibility and well-known superior and well-maintained trail conditions for ATV and snowmobiling. AuTrain, located in Alger County, has a population of just over 1,000 township residents and is located just south of M-28, the U.P.'s main northeast/west route on the shores of Lake Superior. Munising is just 15 minutes east and is home to Pictured Rocks National Lakeshore, Grand Island National Recreation Area and Hiawatha National Forest. Pictured Rocks Boat Cruises provides a narrated cruise to view the historic rock formations, or for those more adventurous guests who desire an "on the water" experience, Uncle Ducky Kayak Tours offers a host of daily paddle trips.
Northwoods' main resort is comprised of individual cabins that range from one & two bedrooms to a large four bedroom log cottage…all fully furnished. The Northwoods décor is rustic, comfortable and inviting, while providing guests with up-to-date conveniences of home. Several cabins have working gas fireplaces adding to the cozy, warm atmosphere. Friendly staff is always available to assure cabins are clean, comfortable and to help with any questions you may have to make your stay memorable. Thursday's pot luck night is a favorite where guests share their day's adventures…perhaps telling a few fishing tales while making new friends and getting reacquainted with past ones. For a full description of cabins and rentals, go to www.northwoodsresort.net. Winter 2015/2016 and Summer 2016 reservations are now being booked.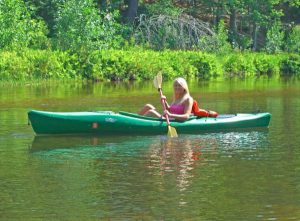 Views of AuTrain Lake are spectacular, and the lake is directly accessible by several of the cottages. The resort has cabins on both sides of H03 (a narrow winding paved country road providing a route from M28 to M94 – see resort map.) Guests without direct cabin access to AuTrain Lake can easily enjoy the sandy beach, complete with picnic table and chairs, as well as the dock with swim raft.  The boat livery has a variety of options including motor boats, row boats and pontoon boats for guests to enjoy a day of fishing or just being on the water. Northwoods Resort's main office is also where you will find Northwoods Canoe and Kayak Rentals. Three different AuTrain River trips are available where you can enjoy a fun, relaxed, lazy river paddle for 3-5 hours, depending on your choice of distances. This is a family friendly adventure and offers a variety of kayak options for either 1 or 2 people. Old Town canoes, known for their stability, will easily accommodate 2 people. For a complete listing of options, go to www.paddleautrain.com. Lake Superior's AuTrain Bay highlights a clean sandy beach and is just a few minutes drive from the resort.
View their Explore Munising listing:
Contact information:
N7070 Autrain Forest Lake Rd, AuTrain, MI 49806
(906) 892-8114
www.northwoodsresort.net | www.paddleautrain.com