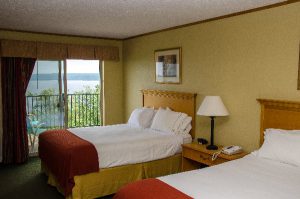 Holiday Inn Express, located in Munising Michigan, is one of the area's finest four-season lodging properties. Holiday Inn Express is situated high atop a bluff overlooking Lake Superior located outside Munising city limits heading west on M28. Just minutes from Munising's centrally located boat marina, Bayshore Park and Pictured Rocks Boat Cruises, this property boasts both lake and hillside views. Holiday Inn Express's lakeside rooms are luxuriously appointed and provide a breathtaking panoramic view of Grand Island, Munising Bay and the beginning of the Pictured Rocks National Lakeshore shoreline.
The massive wood exterior is breathtaking and provides casual luxury in a gorgeous outdoor setting. The breakfast room is the perfect way to start your day with majestic views of Lake Superior. A meeting room is also available on premises. A family friendly indoor pool, hot tub and sauna help you relax after a day of enjoying nature's surroundings. The friendly staff will assist in making your stay one to be remembered.
The rear hilltop view, with chairs, is perfect for relaxing and enjoying Lake Superior's water traffic. Embark on a Pictured Rocks Boat Cruise, a 3-hour cruise showcasing the incredible rock formations. Seaberg Pontoon Rentals and Superior Pontoon Rentals each provide a self-guided Lake Superior cruise to Grand Island's east shoreline and Pictured Rocks shoreline. Grand Island Ferry shuttles bikers, hikers and campers to the Grand Island National Recreation Area.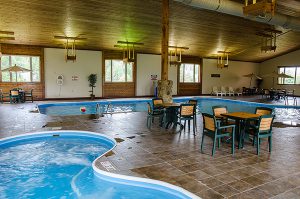 Dog sledding, snowmobiling, ice climbing, snowshoeing and cross-country skiing are among winter's favorite activities to enjoy in this U.P. snowy wonderland. February's Ice Climbing Festival hosted by Downwind Sports brings winter enthusiasts from all over the world to experience ice climbing. Dogsledding can be experienced firsthand at Husky Haven Sled Dogs in Shingleton (just 15 min. east of Munising). Enjoy kennel and educational tours to experience a "Mushing Adventure" with dogs that have actually run the Iditarod Dog Sled Race.
No matter what the season, Holiday Inn Express is an exceptional lodging choice to help you experience Munising, Michigan and Alger County for your vacation destination.  Reservations are strongly encouraged. Visit ExploreMunising.com for a downloadable map with hotel location.
View their Explore Munising listing:
Holiday Inn Express – Lakeview
Contact information:
E8890 M-28 West, Munising, MI 49862
(906) 387-4800 | 1-888-HOLIDAY
hiexmunisingmi@yahoo.com
www.hiexpressmunising.com