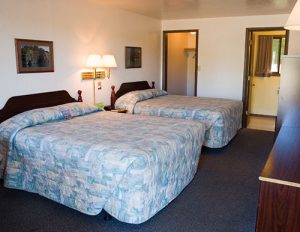 Alger Falls Motel & Rental Cabins, located in Munising, Michigan, is a family owned and operated 16-unit, including 2 housekeeping cabins, property. Clean, comfortable and conveniently furnished with coffeemaker, microwave, refrigerator, electric heat, air conditioning and free wireless Internet, this 16-unit motel is nestled into the hillside framed by trees that provide a picturesque backdrop of scenery. Alger Falls Motel is located just minutes from local attractions — Pictured Rocks Boat Cruises, Uncle Ducky/Paddling Michigan Outdoor Adventures, Sydney's Restaurant, Dogpatch Restaurant, Seaberg Pontoon Rentals, Superior Pontoon Rentals and a host of others.
A four season destination, Alger Falls Motel & Rental Cabins is home to the western gateway of the Pictured Rocks National Lakeshore. Hiawatha National Forest, Grand Island National Recreation Area, and Alger Underwater Preserve are among the other natural attractions that bring folks to Alger County.
Exploring the Pictured Rocks National Lakeshore, you will travel west along H58 for 58 miles.  Designated areas for hiking, waterfall exploration, sand dunes, and AuSable Lighthouse are among some of the favorite stops.  Waterfalls are easily accessible, many with a short 10-minute walk.  For those looking for a more challenging day of hiking, take the trail leading to Chapel Falls and Chapel Beach, continuing on to Mosquito Beach and Mosquito Falls for a total of 9 miles.  The road leading to the trailhead is marked "Chapel Road" and is a gravel access road to the trailhead/parking area.  At the Explore Munising Visitor Center you will find waterproof maps that detail the shoreline, complete with photos, name recognition and location of the individual rock formations nicknamed the "painted rocks."   Maps can be purchased at the seasonally operated Visitor Center or purchased online at exploremunising.com.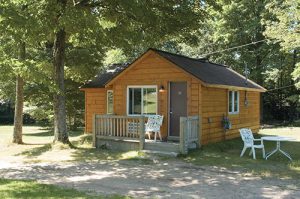 Once the snow arrives, H58 is no longer accessible by car, but it is a snowmobiler's paradise. Maps are available with clearly marked snowmobile trails where you can enjoy miles and miles of wintertime adventure.  Alger Falls Motel has ample parking for snowmobile trailers.  Two housekeeping cottages with fully equipped kitchens are available and are the perfect choice after spending a day of fun on the trails.  Accessibility to the snowmobile trails brings guests back time and time again throughout the season.  The rental cabins/cottages sleep up to 10 guests.
Make Alger Falls Motel and Cottage Rentals a great lodging choice for your next vacation!
View their Explore Munising listing:
Alger Falls Motel & Cottage Rentals
Contact information:
E9427 State Hwy M-28, Munising
1-877 ALG-FALL | (906) 387-3536
algerfallsmotel1@jamadots.com
www.algerfallsmotel.com