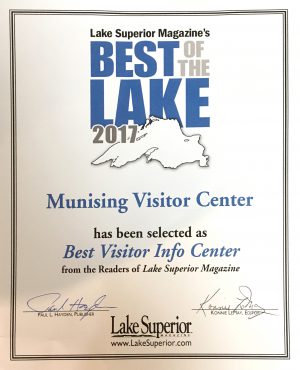 The Munising Visitor Center has been selected as "Best Visitor Info Center" by the readers of Lake Superior Magazine, as announced in the magazine's August/September 2017 "Best of the Lake 2017" issue, and on the magazine's website, www.LakeSuperior.com.  The annual awards were launched by the magazine in 1993 to bring deserved recognition to establishments and locations around Lake Superior.
"We are honored to be recognized by the readers of this prestigious publication," stated Brenda Kelley, owner of Munising Visitor Center and Explore Munising.  "We feel it is a validation of the customer-centered approach that we based our operating plan on when we opened our center in 2012.  We have listened to the questions that tourists have, and have designed the products and services we offer to create an informative, rewarding, and sometimes even stress-relieving experience for them when they choose to come in to our center.  We are known for the high-quality, waterproof maps that we have produced for Pictured Rocks National Lakeshore and Grand Island National Recreational Area hiking trails, and area kayaking, shipwreck, and waterfall tours, and we are an authorized agent for the purchase of Pictured Rocks Boat Cruises tickets.  Our center has a studio featuring area artists, a bookstore and gift shop, and one of the area's largest selections of quality items for kids. We offer a free concierge service, and our restaurant/dining section complete with menus is very popular. We are proud to also represent the Munising Visitors Bureau and many area businesses, as well as the Keweenaw Convention and Visitors Bureau and the Manistique Tourist Council, so we can even provide our visitors with assistance for their travels outside of the Munising area.  All of our staff members enjoy engaging our visitors in conversation so that we can provide the best possible service to them, and we have made many friends that return year after year, even if it's just to say hello.  We absolutely look forward to meeting each and every person that comes in to our center, and making many more new friends!"
For more information contact Brenda at Kelley Marketing, LLC, 906-387-5710, or browse the rest of our website.