Campgrounds in the Munising area
The campgrounds in the Munising area will help you relax after a long day of sightseeing or hiking in the Upper Peninsula wilderness. From rustic camping to full hook-up sites, our local campgrounds will be able to accommodate you. Take a moment to browse some of the options below.
Wandering Wheels Campground
Munising
Located just 3 miles from downtown Munising, our campground offers large sites with choice of hook-ups, rustic sites and camping cabins. The perfect choice for an unforgettable camping experience!

E10102 M-28 East, Munising, MI 49862
N 46° 22.617 W 86° 35.645
(906) 387-3315
visittheup@yahoo.com
www.wanderingwheelscampground.net
Click for map!
Pull-thru sites
Full hook-ups to rustic sites
Large heated outdoor pool
Camping cabins w/ fireplaces
Miniature putt-putt golf
Gift shop
440 acres of trails
Pavilion
Wireless Internet & cable
Playground & horseshoes
Bathrooms & showers
Laundry facilities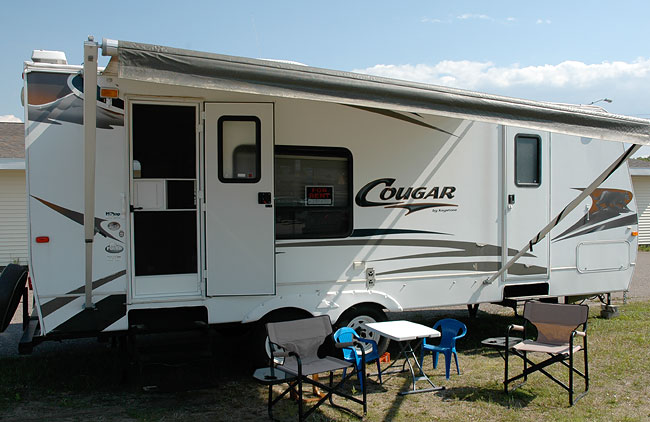 Click images to view larger.
Munising
Fully equipped campers available. Tenting not quite your cup of tea, but you want to have the camping experience, renting a fully furnished camper is the perfect solution. Located in Munising, you can stay in one of our reserved sites or we will deliver to several other area campgrounds.

Campers sleep 6. Double bed with standard bed mattress – just like home! Sofa folds out into bed, as well as table drops down – perfect for the kids! Air conditioning, stereo with CD/DVD, kitchen with dishes, pots and pans, coffee pot, microwave, refrigerator, linens, towels, bathroom with standard size shower, and charcoal grill for cooking outside. Propane included for inside stove/oven.
We will deliver and have your campsite ready for you when you arrive. Area campground offer views of Pictured Rocks National Lakeshore and Grand Island or more secluded wooded settings. There are several options available and we will be glad to assist. Weekly, weekend, and nightly rates available depending on time of year. Rain or shine – you'll be camping in comfort!
Call 906-387-5710 or 906-387-5709 (after 5:30 EST) for more information. Cell (message) 906-202-0795 and we will return your call as soon as possible.
Fully equipped camper rental which sleeps 6
Camper will be delivered, set-up and ready for you to enjoy at your selected campground site.
Weekly, weekend, and nightly rates available
Otter Lake Campground & Lodges
Munising
Located in the Hiawatha National Forest and minutes from Pictured Rocks National Lakeshore is Otter Lake Campground. Camping sites and lodge rentals available. All campsites have easy access to Otter Lake. Fishing is also a popular activity on the lake – paddle and row boats are available for rent. This well-maintained campground offers new shower house, playground, coin laundry, dump station and camp store. 77 sites – tent, RV and group. Beaver (3-bedroom) and Black Bear (6-bedroom) cabins available.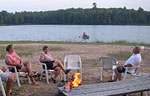 E7609 Otter Lake Road, Munising
N 46° 18.350 W 86° 43.040
(906) 387-4648
info@playatotterlake.com
www.playatotterlake.com
Click for map!
Full-hookups available
3-bedroom lodges
Easy access to ORV trails
New shower house
Pets Welcome
Laundry
Dump station
Camp store
Canoe, kayak & paddle boat rentals for use on Otter Lake
Fishing on Otter Lake
Hiawatha National Forest campgrounds
Pete's Lake
Camping, Picnic/Swimming Area, Hiking, Fishing, Boating
View more info…
Widewaters Campground
Camping, Hiking, Fishing, Canoeing/Boating
View more info…
Island Lake Campground
Camping, Hiking, Fishing
View more info…
Bay Furnace Campground & Picnic Area
Site History, Camping, Picnic Area, Fishing, Boating, Diving
View more info…
AuTrain Lake Campground and Recreation Area
Camping, Fishing, Picnic Area, Hiking, Boating
View more info…
Pictured Rocks National Lakeshore campgrounds
Hurricane River Campground
Camping, Hiking, Fishing
View more info…
Twelvemile Beach Campground
Camping, Swimming, Hiking, Interpretive Trail
View more info…
Little Beaver Lake Campground
Camping, Canoeing/Boating, Fishing, Hiking, Interpretive Trail
View more info…