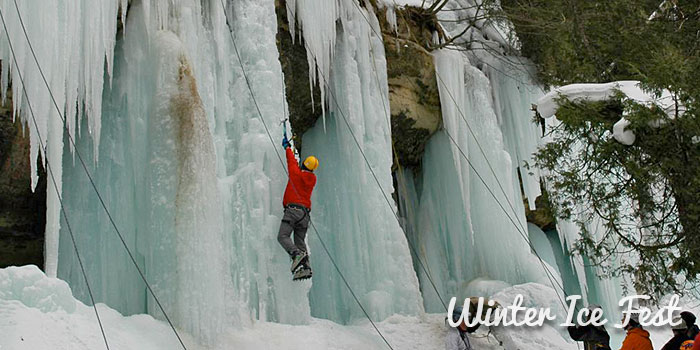 Michigan Ice Fest
Munising / Grand Marais Winter Events
December 2015
1st, Tuesday
Michigan Snowmobile Season Begins!
Trails open for use
---
3rd, Thursday
Rekindle the Spirit
Downtown Munising
5:30-7:30pm; Kick off the holiday season in downtown Munising
View Flyer
---
4th, Friday
Muzzleloading Deer Hunting Season Opener
Upper Peninsula – Zone 1
---
25th, Friday
Merry Christmas!
---
January 2016
1st, Friday
Happy New Year!
---
February 2016
February 10th-14th, Thursday-Sunday
Michigan Ice Fest
Munising
Ice climbing festival
»Learn more
---
11th-15th, Friday-Sunday
UP 200 & Midnight Run Sled Dog Races
Marquette, Chatham, Wetmore, Grand Marais
»Visit Website
---
13th, Saturday
Moose Lodge Fishing Derby (free fishing weekend)
Au Train Lake, Munising
---
27th, Saturday
23rd Annual Outhouse Classic
Trenary
Festivities been at noon, racing starts at 2:00p.m. Be there! 
» View Website
Grand Marais Cabaret Night!
Community Center, Grand Marais
6:30pm; Songs, dance, skits, and a variety of acts as we showcase our deep pool of local talent.
---