Betsy O'Neill is a Michigan based artist residing in Grand Rapids. Working with oil and acrylic paints for more than 17 years, she favors generous brush strokes and colors to evoke her feelings influenced by nature. Her travels among the diverse landscapes of Michigan offer a broad expanse of inspiration. Betsy's paintings invite the viewer to step back, pause, and recreate their own connection pulled from lasting memories.
As a painter, her desire is to not only instill a sense of wonder and longing to explore natural spaces, but also awareness and preservation of our precious landscapes.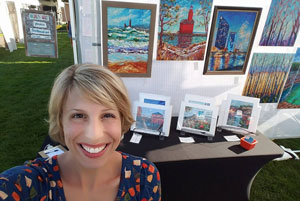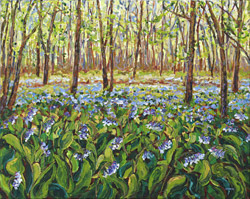 "Bluebells"
Spring in the woods! I always mark my calendar so I don't miss the Bluebells blooming! Magical relief to your soul after a long cold winter, these sky blue and purple blossoms ring in spring like none other!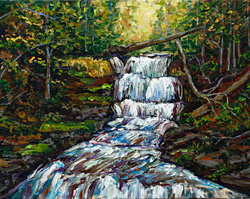 "Waterfalls of Michigan"
Inspired by many of the sparkling cascades of waterfalls in the Upper Peninsula of Michigan. These magical falls are surrounded by the beautiful textures of virgin pine and hemlock trees. Sunlight always seems to find a way to stream in and highlight the water and rocks!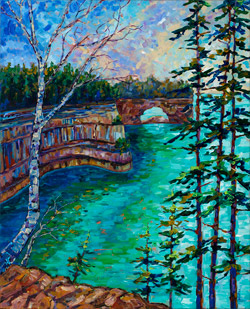 "Grand Portal"
Pictured Rocks National Lakeshore is absolutely other-worldly. Come by trail, kayak, or ferry! These rock formations streaked with color against the aqua and green water of Lake Superior will take your breath away. Even the pine trees lean off ledges to get the best view!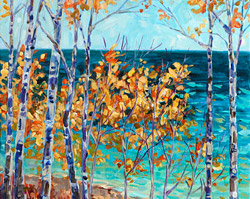 "Between the Blue and Gold"
Inspired by shoreline road trips around Michigan and Scenic color tours. The lake water seems to deepen in the autumn as the sun becomes less intense overhead. Rich dark blues fade into lighter aqua at the shallow shoreline. Birch and pine lean from the wind. The last of the golden leaves flutter courageously before the impending gales send them sailing like tiny ships into the lake!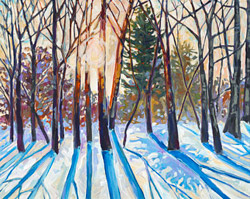 "Joyful Experience"
Inspired by the Winter Solstice and the transition into a new year. The sun is low in the southern horizon on these dark short days, but promises hope after weeks of clouds! In my painting, a bright orb turns branches purple and gold and snow becomes an intricate pattern of blue shadows. This piece makes me want to shout with joy and say, "Happy New Year! It is good to be alive!"