Munising area waterfalls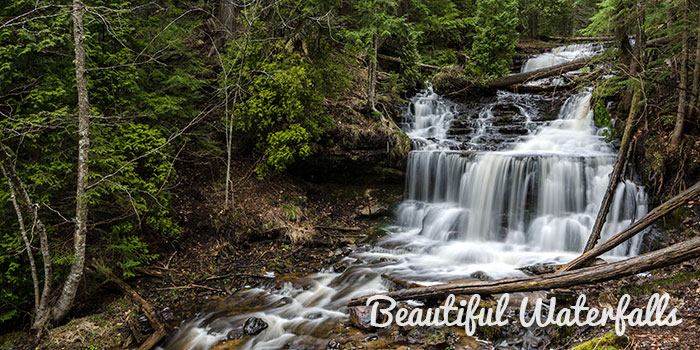 The waterfalls of Munising and the Grand Marais area are quite impressive to say the least. From roadside waterfalls to more adventurous day hikes, there's something for everyone! The waterfalls below are the more popular ones as there many others that are unnamed, more difficult to find. During the winter months, some of the waterfalls will change into huge ice towers as the flowing water will freeze on its self. No matter which season you view them, just make sure to carry the necessary gear and be prepared for the conditions.
Waterfalls | Lighthouses | Nature & Parks Map
Instructions: Click any map marker to see waterfall name and photo.

This 50-foot waterfall drops into a sandstone canyon and creates a spectacular scene. Walk .25 mile on a paved trail through the woods until you reach the viewing platform. There are two other viewing areas reachable by stairs but the main platform is fully accessible. Pets are only allowed on the paved trail.
Located within the city of Munising, follow H-58 east until you reach Washington Street and turn left. Follow until you reach the Munising Memorial Hospital and the falls parking area is across the street.
N 46° 25.369 W 86° 37.301

Follow a .9 mile hiking trail to the falls through forest and small hills to see this secluded waterfall. The Mosquito River flows over three drops with the largest being 8 feet. No pets allowed.
Drive 15 miles heading east of Munising on county road H-58 until you reach Chapel Road. Head north for 5 miles until you reach the end of the road.
N 46° 31.029 W 86° 27.832
Located within Rock River Canyon Wilderness, this 20 foot cascading waterfall is within a secluded area of Alger County. The falls is located 3/4 mile from the parking area and this waterfall is truly for the adventurous. No motorized vehicles, bicycles or wheeled devices allowed within the designated wilderness area.
Drive west on M-94 until you reach the town of Chatham. Continue straight at the intersection on Rock River Road. Turn left on FR-2276 (Sandstrom Road) and travel about 3.5 miles. Then turn left on FR-2293. Parking area is .7 miles on the left side of the road.
N 46° 24.668 W 86° 58.576

Following a short trail to the falls, this 75-foot waterfall tumbles over several cliffs until it reaches Lake Superior. The first viewing platform is down a staircase with 169 steps. Pets are not allowed on the trail.
From Munising drive east on H-58 heading towards Grand Marais. Sable Falls is 1 mile west of Grand Marais.
N 46° 40.13 W 86° 00.84

This hidden gem drops approximately 40 feet but it is not well marked or advertised. This waterfall is also known as Rudy M. Olson Memorial.
Drive east on H-58 out of Munising until you reach the Washington Street (also known as Sand Point Road) intersection. There is a staircase leading into the woods on the eastside of the highway. Please make sure to park on Washington Street as you will be ticketed for parking on the highway.
N 46° 24.757 W 86° 37.573